The No Platform Mobile Advertising Program
As entrepreneurs and business owners we have an obligation to inform our prospective customers and clients how we can improve their life.
This is how YOU can gain that competitive advantage over all others in your market. You believe you are different, unique! Does your target audience believe that?
They see your ad and ask themselves why they should do business with you rather than any other competitive option available to them (and in some instances I might add), including doing it themself or choosing to do nothing at all? - you'll notice that if we assume there's ONLY one competitive option, the prospect still has to make 6 choices.
Doing business with you or a competitive option

Doing business with you or doing it themselves

Doing business with you or doing nothing at all

Doing business with a competitive option or doing it themselves

Doing business with a competitive option or doing nothing at all

Doing it themselves or doing nothing at all
How YOU get in front of your target audience is by taking advantage of our ability to target.
5 Million data touch points, 300,000+ mobile apps, everything tracked, everything reported, utilizing AI to its current potential, personal data not required, and location targeting are all components of the machine.
Think of every advertising platform deliverable you know, shoot it up with steroids, put the hammer down and hit the afterburners. That's what you get.
Are you looking to maximize the effectiveness of your mobile video ad campaigns? AI algorithms are the key to unlocking more precise and effective audience targeting. With AI, you can identify patterns in user data that would be difficult for humans to detect, allowing for more accurate and personalized ad experiences. This means that your mobile video ads will reach the right people, at the right time, with the right message — every single time. Unlock the power of AI and take your mobile video ads to the next level!
How it works
Radial follows a 5 step process, each one dependent on the other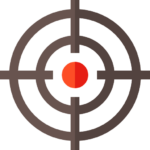 ARTIFICIAL INTELLIGENCE (AI)
Radial's proprietary formats are built for a superior mobile ad experience. Fully on-screen ads like Ad Chooser and Thumbnail Ad are 100% in view, 100% of the time.
REAL INTELLIGENCE
Or what we call 'C1' (Client Intelligence). 5 million touch points of data, 1st, 2nd, 3rd party data, 12-24 months of location tracking, and 30 days of competitor website monitoring
MAPPING OR 'CI' LAYERING
Radial gives weight to and layers the data based upon relevance. A Radial Ad is NOT delivered to everyone and anyone (gross impressions). The goal of Radial is to identify and deliver an Ad to a client's specific audience.
AD CREATION
Radial then designs and creates a Radial FULL-screen interstitial Ad.
MONITORING
The Radial team (yes a real person) measures and monitors the client's account, constantly. This is also where 'Al comes in. The Radial 'Al' program will learn the client's industry and its market. 'Al will make data-driven, digital decisions.
Companies we have worked with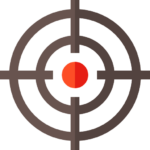 © Copyright 2023 Scott Steele & Radial Now. All rights reserved. Reproduction or duplication of this website or contents is strictly prohibited. View Privacy Policy